The Nationalisation of the Body in Martial Arts: A Case of Post-War Japan
Schlagworte:
Nationalisation, Japan, Post-war
Abstract
In my presentation, "the nationalization of the body" is understood as a notion and feeling of the people—nationalism, national identity—which is internalized in an individual's body and is defined as reflection or realization of a collective solidarity. Body culture recognized as one's country's culture can, as e.g. a common language, be an effective tool of nationalization. Remarkable examples for this phenomenon are Turnen in Germany that was developed as a reaction to the humiliation under foreign French rule, Czech's Sokol, and the Gaelic sports of Ireland.
Although modern Japan feels the fear of foreign domination, Japan had not experienced defeat or occupation until 1945. A phenomenon similar to Turnen or Sokol was therefore not developed in Japan, but it has been argued that Japanese martial arts (budō) can be compared to these (Iwahara, 1936).
Martial arts were marginalized during the construction of the Western-style modern state. However, their importance was finally recognized, when the nation was in crisis due to war. Martial arts were implemented in the secondary school curriculum after pressure from activists and martial arts organizations, becoming regularized after the 1930s. This movement wasnot only supported by martial arts organizations, but also by military authorities. In 1931, martial arts were made a compulsory subject for male students in secondary schools, implemented as a tool for nationalization. In 1934, the army's sabers were replaced by Japanese swords (katana).
After the Second Sino-Japanese War began in 1937, martial arts were regarded as a means to train self-sacrificing soldiers. In 1941 then martial arts were also made compulsory in elementary schools' physical education classes. With Japan 's participation in World War II, martial arts were promoted as a whole to denounce Western sports culture and along with this development were reorganized into an effective battlefield combat strategy, becoming a tool for fanatic nationalization.
After defeat in World War II, for the first time in its history, Japan was under American rule from August 1945 until April 1952. Martial arts were not only removed from the school curriculum, but also from society. Teachers of martial arts were forced into retirement and the major officials of martial arts organizations were purged—even the use of the term budō was banned. The prohibition period of jūdō, kyūdō (Japanese archery), and kendō (swordsmanship) differed, but the commonly imposed condition to reintegrate into "ociety" was to transform them into "sports". Making martial arts into a sport meant that elements like militarism, ultranationalism, and nationalization would be extracted from the self-concept of martial arts, and that they would need to change into a pure activity. Accordingly, the term "combat sports" replaced the term budō in secondary school physical education.
After being reborn as a sport, martial arts gained popularity and reached a popularity peak among the youth in the mid. However, at the same time Japanese martial arts associations began to question the concept of martial arts as a sport, claiming that martial arts were part of traditional Japanese culture. In addition, they, together with politicians, increased pressure on the Ministry of Education and were finally able to bring back the name budō to secondary school physical education and make teachings on the originality of traditional (Japanese) culture compulsory in 1986. Martial arts therefore once again became a means of nationalization.
In this paper, I will follow and discuss the historical background of how martial arts once again became a tool for nationalization, the conditions under which this became possible, the inconsistencies and issues brought about, and the positive potentials.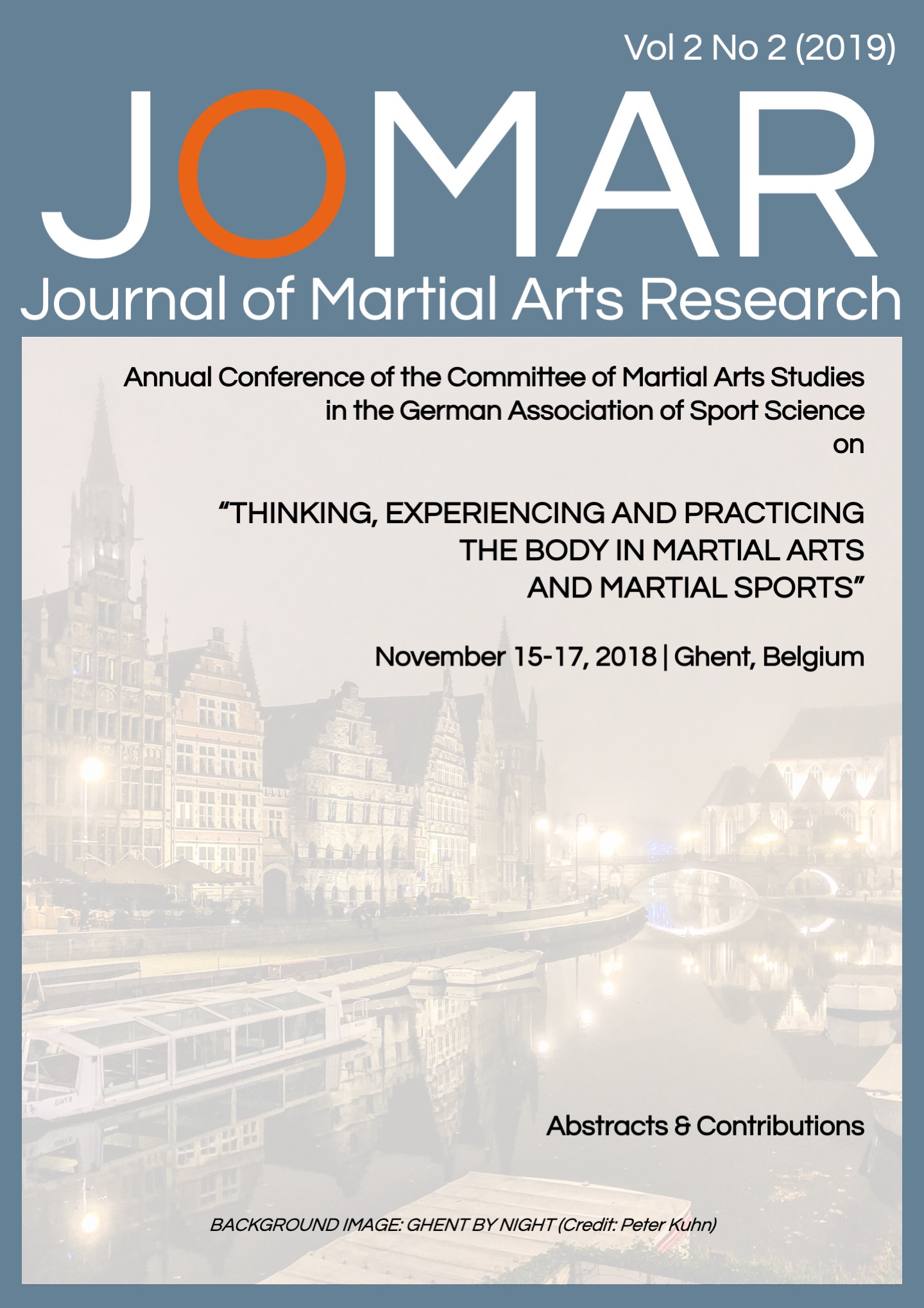 ##submission.downloads##
Zitationsvorschlag
Sakaue, Y. (2019). The Nationalisation of the Body in Martial Arts: A Case of Post-War Japan. Journal of Martial Arts Research, 2(2), 9. https://doi.org/10.15495/ojs_25678221_22_122
Lizenz
Die Werke sind lizenziert unter einer Creative Commons Namensnennung 4.0 International Lizenz (CC BY 4.0). Kurz gesagt, das Urheberrecht für in dieser Zeitschrift veröffentlichte Artikel liegt ausschließlich bei den Autoren, wobei der Zeitschrift das Recht zur Erstveröffentlichung und einfachen Nutzung gewährt wurde. Mit dem Erscheinen in diesem Open-Access-Journal sind die Artikel frei zu nutzen, soweit eine angemessene Nennung der Autorschaft sowie zum Copyright erfolgt.