Improvement of movement execution in karate due to cognitive training with a virtual reality application for smartphones
Katharina Petri

Otto-von-Guericke University, Institute III: Sports Science, Department of Sports Engineering and Movement Science

Christian Timmerevers

Otto-von-Guericke University Magdeburg, Institute III: Sports Science, Department of Sports Engineering and Movement Science, Germany

Jan Luxemburg

Otto-von-Guericke University Magdeburg, Institute III: Sports Science, Department of Sports Engineering and Movement Science, Germany

Peter Emmermacher

Otto-von-Guericke University Magdeburg, Institute III: Sports Science, Department of Sports Engineering and Movement Science, Germany

Claus-Dieter Ohl

Otto-von-Guericke-University Magdeburg, Institute of Experimental Physics, Germany

Marco Danneberg

Fraunhofer Institute for FactoryOperation and Automation IFF, Germany

Steffen Masik

Fraunhofer Institute for FactoryOperation and Automation IFF, Germany

Kerstin Witte

Otto-von-Guericke University Magdeburg, Institute III: Sports Science, Department of Sports Engineering and Movement Science, Germany
Keywords:
Virtual reality, VR app, VR training, observation of movement execution
Abstract
Observations of motor executions in videos are useful to improve performance but no study has used virtual reality (VR) to improve own motor execution due to motor observations. In an intervention over 2 weeks with 8 sessions of 10 minutes each, 18 karate athletes were randomly assigned in a control group (CG), a video group (ViG), and a VR group (VRG). ViG watched movement executions with a video and VRG with a VR app for smartphones in a Head Mounted Display. CG had no additional cognitive training. In pre- and posttests, 8 parameters in the movement executions of all athletes, chosen after consultation with an expert coach, were examined using video analysis. Mixed ANOVAs and paired t-tests showed significant improvements in the movement execution for VRG in 4 parameters (p<0.05), for ViG in 2 parameters (p<0.05), but not for CG (p>0.05). Questionnaires showed that VRG felt comfortable in VR and had no technical problems with the VR app. Furthermore, the VR app was preferred due to interactivity and depth information. We conclude that the VR app is suitable for cognitive training additionally to physical training to deepen the knowledge and to improve own motor execution.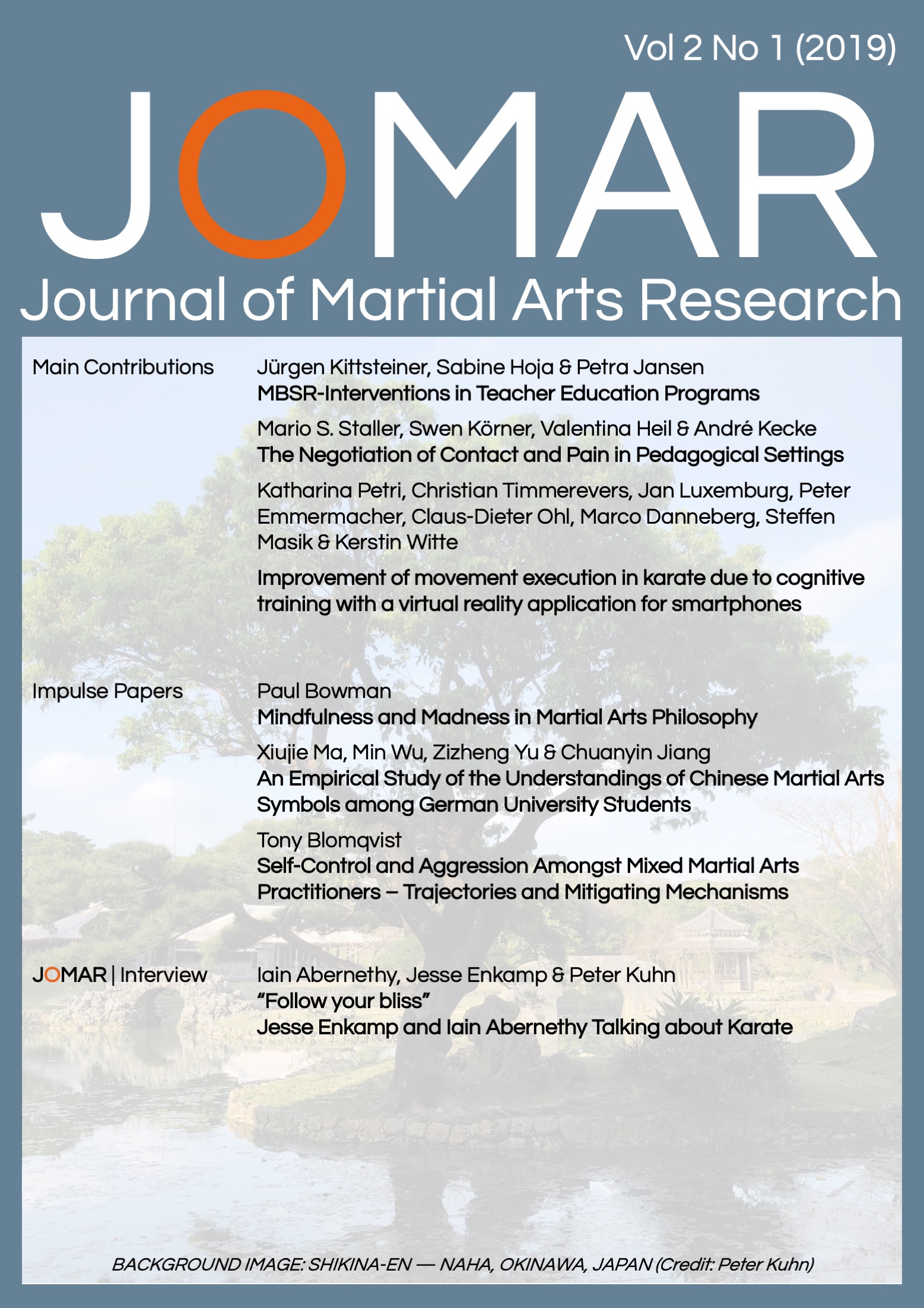 How to Cite
Petri, K., Timmerevers, C., Luxemburg, J., Emmermacher, P., Ohl, C.-D., Danneberg, M., Masik, S., & Witte, K. (2019). Improvement of movement execution in karate due to cognitive training with a virtual reality application for smartphones. Journal of Martial Arts Research, 2(1). https://doi.org/10.15495/ojs_25678221_21_119
Section
Main Contributions
Copyright (c) 2019 Katharina Petri, Christian Timmerevers, Jan Luxemburg, Peter Emmermacher, Claus-Dieter Ohl, Marco Danneberg, Steffen Masik, Kerstin Witte
This work is licensed under a Creative Commons Attribution 4.0 International License.
This work is licensed under a Creative Commons Attribution 4.0 International License (CC BY 4.0). In short, copyright for articles published in this journal is retained by the authors, with first publication rights granted to the journal. By virtue of their appearance in this open access journal, articles are free to use, with proper attribution to the author and link to the licensing, in educational, commercial, and non-commercial settings.